New Release - ground breaking for jail addon
05/09/2023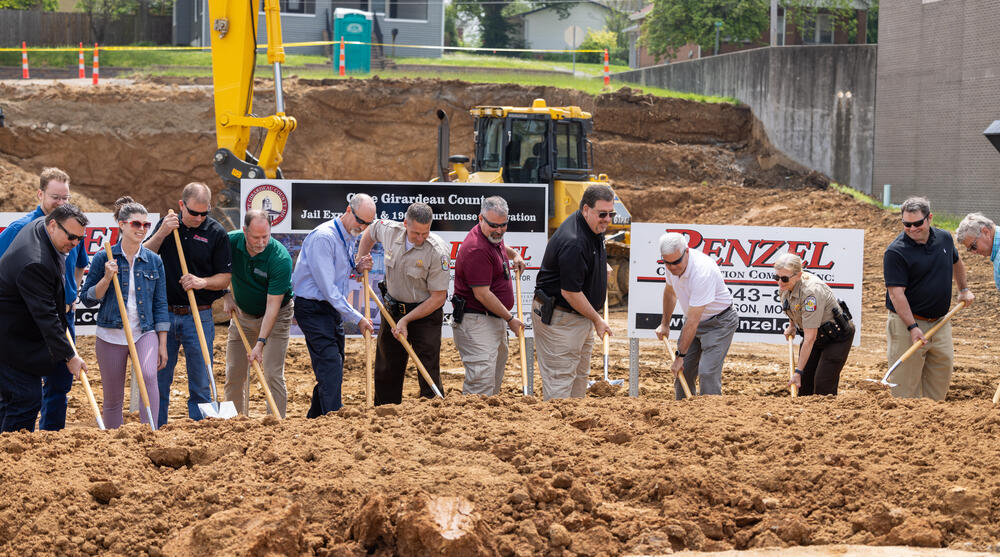 Media Release May 9, 2023
The Cape Girardeau County Commission began reviewing all county facilities, officeholder space needs, departments, and park structures in 2013.
Identified capital needs included replacing the 1854 and 1908 courthouses with good and sufficient space for court proceedings, juvenile court administration, jail addition, and establishing an Emergency Operations Center. As a part of this exercise, the county began to develop a long-range plan to address these items and others.
The citizens approved a tax in 2015 to construct and maintain a courthouse. In 2020 the citizens approved a law enforcement tax for operation and infrastructure of the Sheriff's Office.
After addressing the needs of the court(s), EOC, and juvenile, the County of Cape Girardeau began planning for a jail addition/renovation.
After a rigorous process, the design-build team of Penzel/TreanorHL was selected to build an addition to the existing jail campus and renovate the 1908 courthouse.
The jail project will include the addition of 368 beds, a new kitchen and laundry, an inmate property system, storage, and future space. The current 2000 jail will be renovated as part of the project. The expected completion of the addition is December 2024. At that time, renovation of the 2000 jail space will begin. The total expected cost will be $48,939,295.00, funded by a certificate of participation bonds, ARPA funds, and law enforcement sales tax.
The 1908 courthouse will be renovated to include electrical, HVAC, elevator replacement, and exterior repair. Expected completion Summer 2024. At that time, some county offices will be occupying the renovated space. The total expected cost will be $7,712,717.00, funded by the county's capital improvement fund.